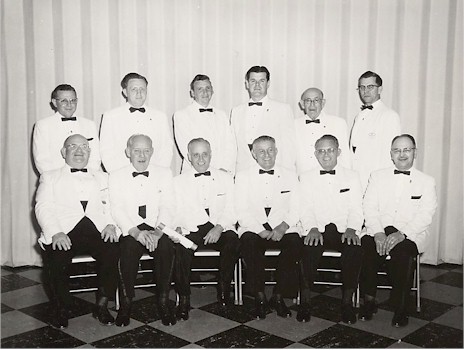 1960 Council of Governors
Front L-R: Rev. G. Lynn Pugh 13F-1, Everett Reeves 13E, ?, ?, Ray McLaughlin 13G, & Stephen R. Smith 13A-2.
Back L-R: Jasper W. Emrick 13C, Robert E. Bodager 13A-1, Willis Leadingham 13H, Adolph J. Somrack 13F-2, J. H. Gamel 13D, & Charles Radcliff 13B.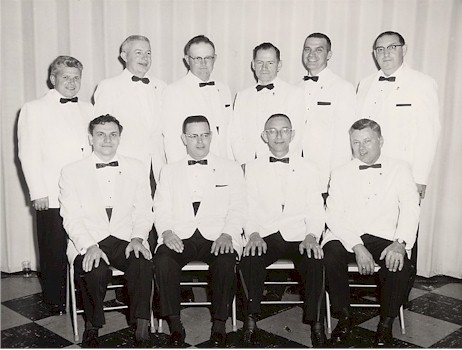 1961 Council of Governors
Front L-R: Joseph A Saxson 13J, Richard T. Young 13D, George J. Stoll 13H, & Richard D. Jesse 13F.
Back L-R: Charles W. Olmstead 13A, John M. Waring 13B, Ralph J. Steinle 13G, Robert L. Lowry Jr. 13E, Jack A. Allen 13I, & G. Clifford Elliott 13C.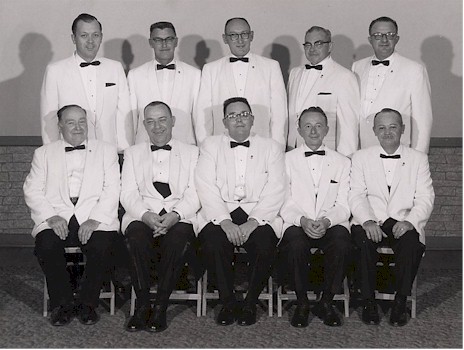 1962 Council of Governors
Front L-R: George F. McCullough 13I, Nelson A. Reed 13A, Harold L. Hoyt 13J, Vinton G. Swihart 13E, Nevin A.Gibbons 13F.
Back L-R: Charles J. Linser 13G, Robert Bush 13B, J. Earl Rankin 13C, Stanley W. Goodwin 13D, Glenn A. Fannin 13H.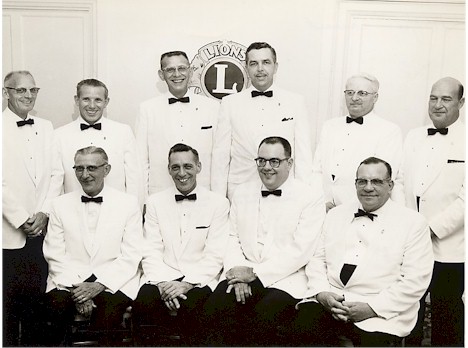 1963 Council of Governors
Front L-R: C. Kirby Wheeler 13B, Richard R. Smith 13G, C. Richard Spielman 13E, & Harold Yost 13J.
Back L-R: Dwight E Rainsberger 13A, Robert F. Lowe 13F, Wayne C. Kreutzer 13H, Fred J. Hemmert 13C, John J. Tobin Sr. 13D, & Gerald K. Leasure 13K.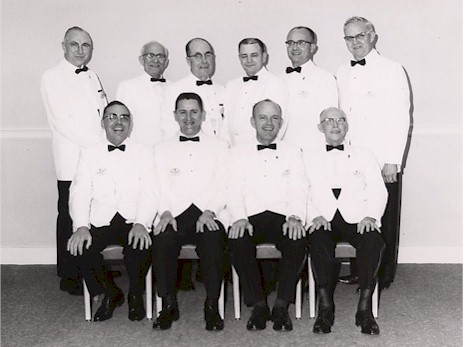 1964 Council of Governors
Front L-R: William F. Brennan 13C, Ernest J. McFarland 13G, Don W. Welshon 13B, & Firman R. Opp 13F.
Back L-R: Arthur E. Fisher 13H, Chester G. Walz 13A, E. Glenn Baxter 13E, John "Jack" Thomson Jr.13J, John M. Snively 13K, & Lewis C. Yohn 13D.

1965 Council of Governors
Seated L-R: Paul H. Harris 13C, Kenneth M. Howell 13K, Dan W. Cole 13H, Dan Orwig 13E, & Lynn F. Kuhn 13A.
Back L-R: Warren E. Howard 13G, Sal Zavarella 13F, Robert E. Hutsler 13J, ?, Wilbur R. Franklin 13B, & Oliver M. Kuck 13D.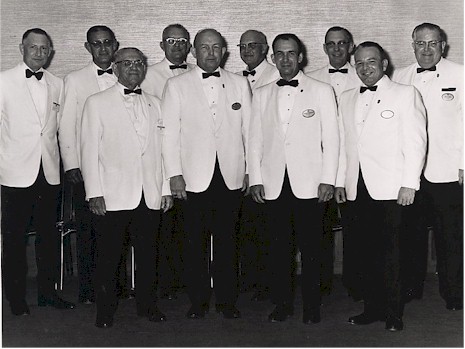 1966 Council of Governors.
First class of Governors of the redistricted MD13 as we know it now.
Front: Max Rose 13E, Merle W. Hartle 13J Council Chair, Richard W. Neiderhauser 13B, & James E Tyner 13H.
Back: Max Sechrist 13F, Fred Boyer 13K, Gaylord E. McComas 13G, Robert McMannness 13A, Walter L. Thompson 13C, & Roy R. Lewis 13D.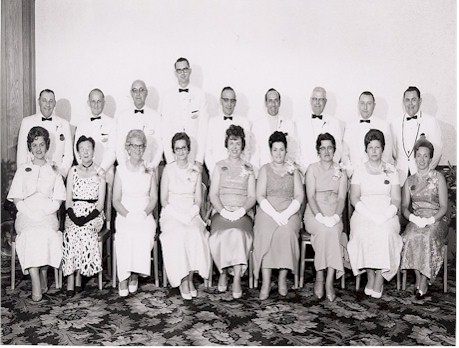 1967 Council of Governors.
Back L-R: Donald M. Jones 13D, Raye F. Richter 13K, Emory Tyree 13E, Marvin Davis 13G, Harold J. Spitler 13J, Sal LoBosco 13C,
Leonard W. Yost 13A, Harold Hillier 13F, & William C.Heckters 13B (Missing Carl Chamberlain 13H)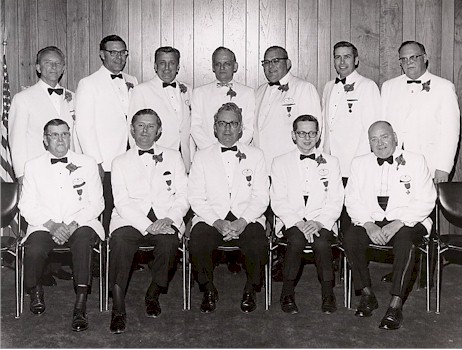 1969 Council of Governors