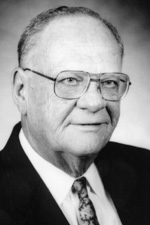 Ohio's Past International President
W. R. "Dick" Bryan
International President: 1969-1970
International Director: 1957-1959
W. R. "Dick" Bryan, of Doylestown, Ohio, USA, was elected president of The International Association of Lions Clubs at the association's 52nd annual convention, held in Tokyo, Japan, July 1969.
Past President Bryan was a retired Executive Director of Community Services for the Goodyear Tire and Rubber Company.
Past President Bryan was a member of the Doylestown Lions Club and an associate member of the Pioneer Lions Clubs, Past President Bryan held all club and district offices, served as chairman of the State Council, International Convention Committee and held a two-year term as a member of the association's board of directors from 1957-59. He also served on the faculty of the District Governors-elect Seminar for 30 years and had been a presenter at USA/Canada Forums.
For his work on behalf of the association, he received 24 International President's Awards and the Ambassador of Good Will Award, the highest honor presented to Lions. He was also a Key Member and a Melvin Jones Fellow.
Past President Bryan was a member-at-large of the National Council of Boy Scouts of America, served on his local board of education, park board and village council. He has also headed both the United Way and Young Men's Christian Association campaigns in Akron, Ohio, USA.

Past President Bryan passed away on November 26, 2003. You can read his In Memoriam printed in the February 2004 Lion Magazine.