International Director Steve Thornton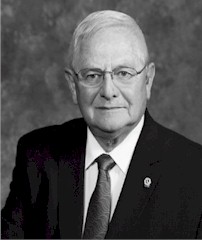 International Director
Steve Thornton (Lion Becky)
#2018-2020


Steve Thornton, from Wooster, Ohio, was elected to serve as international director of Lions Clubs International at the association's 101st International Convention, held in Las Vegas, Nevada, USA, June 29 through July 3, 2018.
Director Thornton retired as Chief of Police for the city of Wooster, Ohio after a 35 year career as a police officer. He has been on the Drug Enforcement Agency board as well as a past member and previous chairman to Medway.
A Lion since 1980, he has called the Wooster Noon Lions Club home since 2003. Director Thornton has held a number of positions in the association including district governor, multiple district council chairperson and district GMT membership chairperson. He has also served as a new club development consultant.
He is the recipient of six International Presidential Medals, two Presidential Certificates of Appreciation, two Presidential Certificates of Commendation, and an Ambassador of Good Will Award—the highest honor the association bestows upon its members. He is also a James T Coffey Fellow, a WP Woods Fellow and has been honored as an Everyday Hero by the Brandel-Murphy Youth Foundation.
In addition to his Lions activities he is a former member of the Red Cross board. He is also a former member and chairman at the Counseling Center of Wayne and Holmes Counties.
Director Thornton is a Progressive Melvin Jones Fellow. His wife, Rebecca Lynn Thorton, is also a Melvin Jones Fellow.

# All executive officers and international directors will continue to serve through June 29, 2021 following a resolution passed in March of 2020
by the international board of directors in response to the coronavirus (COVID-19) pandemic and subsequent cancellation of the
2020 International Convention in Singapore.


Ohio Lions Inc. ©® 2023