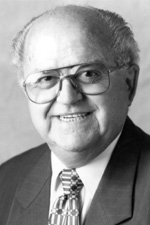 Ohio's Past International Director
Floyd Newberry Jr.
International Director: 1995-1997


Floyd Newberry, Jr. of Sardinia, Ohio, USA, served a two-year term as a director of The International Association of Lions Clubs following his election at the association's 78th International Convention, held in Seoul, Republic of Korea, July 4-7, 1995.
Past Director Newberry was a retired realtor/appraiser.
A member of the Mount Orab Lions Club since 1951, Past Director Newberry had held many offices within the association, including club president, zone chairman, deputy district governor, district governor and council chairman. He was also the MD13 Membership Committee chairman and MD13 Extension coordinator.
Past Director Newberry had 49 years perfect attendance. In recognition to his service to the association, he had received the 45-year Monarch Award, Leadership Award, a Master Key Award, the District Governor's Extension Award, the 100% District Governor's Award, the Guiding Lions Award, three Extension Awards and three International President's Awards. He has also been presented with the Ambassador of Good Will Award, the highest award bestowed upon a member by the association. He is also a Melvin Jones Fellow, a W. R. Bryan Fellow and a James Coffey Fellow.
Past Director Newberry was active in many professional and fraternal organizations in his community and received the Silver Beaver Award from the Boy Scouts of America.
Past Director Newberry and his wife, Elaine, also a Lion, have two children and two granddaughters.

Past International Director Floyd Newberry passed away on January 13, 2017. You can read his obituary printed on the Cahall Funeral Home website or on the MD13 website.