PID Dr. Daniel J. V. Martin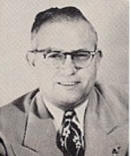 Ohio's Past International Director
Daniel "Dan" J. V. Martin (Helen)
International Director 1953-55
Dr. Daniel J. V. Martin, Greenville, Ohio was elected International Director on July, 1953, at the International Convention in Chicago, Illinois.
A Past District Governor of District 13-C, he also served as Deputy Governor and two years as Zone Chairman. He was a Charter and Key member of the Treaty City Lions Club, in Greenville, Ohio, which was organized in 1941 and had a perfect attendance record.

He had served his Club as Bulletin Editor, Song Leader, Committeeman of Blind Welfare, Director and President.

Lion Martin was born in Bradford, Ohio, and received his grade and high school education there. After studying at the Northern College of Optometry and Miami Jacobs Business College, he opened his own office as an Optometrist.

He was a member of the Brethren Church, Blue Lodge, Scottish Rite, 32 Club, United Commercial Travelers, Chamber of Commerce, Omega Alpha Fraternity and A.O.A., and was active in many civic affairs. His hobby was the Boy Scouts.

Past International Director Dr. Dan Martin passed away on April 23, 1985. You can read his In Memoriam printed in the January 1985 Lion Magazine.