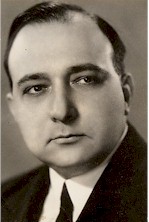 Ohio's Past International Director
John Lloyd (Lillian)
International Director: 1932-34 1935-36
John A. Lloyd, of Cincinnati, Ohio, served as a Director of The International Association of Lions Clubs from 1932-1936.
Past Director Lloyd was Chief Executive Officer of Lloyd and Company, a consulting firm, and retired Chairman of the Board of the Union Central Life Insurance Company.
Lion Lloyd had served as a Club President, Deputy District Governor and District Governor.
He was elected to a two-year term as a Director at the 16th International Convention held in Los Angeles, California in 1932.
He was again elected for an addition alone-year term at the 19th International Convention held in Mexico City, Mexico.
Past Director Lloyd was a Charter Member of the Portsmouth, Ohio, Lions Club which was organized in 1923.
Past Director Lloyd began his business career as a newspaperman, but eventually grew interested in the insurance industry. He was President and Chairman of the Board of Ohio's oldest life insurance company, The Union Central of Cincinnati.
Past Director Lloyd served three terms in the Ohio State Senate from 1930-36. He declined to seek re-nomination in 1936.
In addition to his Lions activities, Past Director Lloyd was active in numerous civic and business affairs.
He had served two terms as a Trustee of the Ohio Historical Society and three terms as President of The Cincinnati Chamber of Commerce and was for many years a Trustee of the Cincinnati Symphony Orchestra.
He was on the boards of a number of civic and patriotic organizations.
Lion Lloyd was widely known as a speaker and lecturer and was the author of many articles on business and civic subjects including two books, "Vignettes of Lincoln" published in 1974, and "Snowbound with Mr. Lincoln", published in 1979 (pictured below).
Past Director Lloyd and his wife, had two children and five grandchildren.

Past International Director John Lloyd passed away on December 6, 1989. You can read his In Memoriam printed in the March 1990 Lion Magazine.
| | |
| --- | --- |
| | |
| Vignettes of Lincoln | Snowbound with Mr. Lincoln |