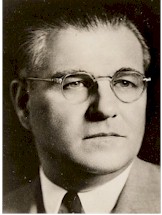 Ohio's Past International Director
A. B. Dredge (Hettle)
International Director: 1948-50

A. B. Dredge was elected as Director of the International Association of Lions Clubs at the 31st Annual Convention held in New York, NY July 26-29, 1948.

Lion Dredge was president of the local Lions club and also served as District Governor of District 13C in 1946.
Lion Dredge was raised near North Hampton, and was active in all sports while attending Olive Branch High School. He moved to New Carlisle and ran the Fordson Tractor Company. Dredge moved to Springfield in 1923 and became manager of the Tecumseh Building. He was also co-owner organizer, secretary, and treasurer of the Bundy Incubator Company.

Lion Dredge was nationally known for his work with the Amateur Athletic Union and the Lions club on a nation-wide basis.

PID Dredge, age 63, was killed in an automobile accident on August 24, 1951, his In Memoriam was listed in the October 1951 Lions Magazine , he was survived by his widow Hettle, a son, and three grandchildren.


Editors Note: contents taken from PID Dredge's obituary to make a Bio. After further research Dredge's full name was Alson Blee Dredge.