PID James T. "Jim" Coffey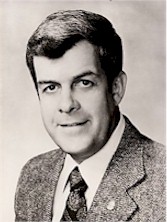 Ohio's Past International Director
James T. "Jim" Coffey (Betty)
International Director: 1980-1982
James T. Coffey, of Toronto, Ohio, was elected to serve a two-year term as a Director of The International Association of Lions Clubs at the Association's 63rd Convention held in Chicago, Illinois, July 2 -5, 1980.

Director Coffey attended Kent State University and is employed by an oil refining corporation. He also serves as an officer and director of a real estate trust company.
A Lion with 20 years of prefect attendance, Director Coffey has served as his Club's President, Zone Chairman, Junior and Senior Deputy Governor, District Governor, Chairman of the Council of Governors, District Chairman of the Lions International Foundation, member of the State Finance and Planning Advisory Committee, and Activities Chairman of the District Governor's Advisory Committee. He has also served as an instructor at various leadership seminars.

For his dedication to Lionism, Director Coffey has received the International President's award, the 100% District Governor's Award, the District Governor's Extension Award, 12 District Governor's Appreciation Awards, the District Membership Development Award and the District Extension Award.

Jim and Betty have one son "J.D." who is a sophomore at O.S.U .. The family attends the First Presbyterian Church of Toronto.

Webmaster note: Bio taken from 1980 State Directory.