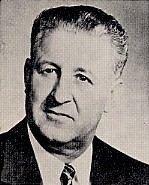 Ohio's Past International Director
Ralph E. Blaney (Lois)
International Director: 1960 -1962
Ralph E. Blaney of Old Fort, Ohio, was elected a Director of the International Association of Lions Clubs at the Chicago Convention July 9, 1960.
Born in Rocks, Maryland, Director Blaney received his Bachelor of Science degree from Ohio State University and taught school for some years.
Lion Blaney became a member of the Tiffin Lions. Later, when a club was formed in Old Fort, he became a Charter member of that club, and continued his record of perfect attendance. Lion Blaney held all the offices of his club and served as District 13-E zone chairman, Deputy Governor and District Governor.
He was a Key Member at Old Fort and had been the recipient of three Extension awards.

Director Blaney maintained deep interest in those less fortunate. He has always been interested in working with the sightless and was appointed by International President Finis E. Davis to serve on this committee on an International basis.
He was manager of the Farmers' Cooperative in Old Fort, a Mason, member of the Grange and the Farm Bureau and the United Commercial Travelers.
Director Blaney was a member of the Evangelical United Brethren Church.

Director Blaney and his wife had a son & daughter.

Past International Director Ralph Blaney passed away on October 2, 1975. You can read his In Memoriam printed in the December 1975 Lion Magazine.