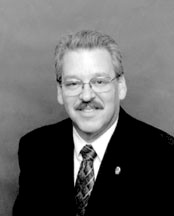 Ohio's Past International Director
Steven D. Sherer
International Director: 2006-2008

PID Steven D. Sherer from New Philadelphia, Ohio, USA, was elected to serve a two-year term as a director of The International Association of Lions Clubs at the association's 89th International Convention, held in Boston, Massachusetts, USA, June 30-July 4, 2006.
PID Sherer is a school treasurer and CFO.
A member of the Dover Lions Club since 1980, PID Sherer has held many offices within the association, including club president, zone chairperson, cabinet secretary/treasurer, district governor in 2000-2001 & 2004-2005 and council chairperson in 2001-2002. He also served as a member of the state Finance and Long-Range Planning Committee, Youth Committee and International Convention Committee. He has been a member of the District 13-G Cabinet for 31 years. PID Sherer has also served on the MD 13 Council of Governors for the past 16 years.
While on the Board, PID Sherer served on the Finance and Office Operations committee, the Long Range Planning Committee, the Audit Committee and as liaison to the USA/Canada Lions Leadership Forum Committee.
PID Sherer served as the Group Leader for Constitutional Area 1B on LCI's Global Membership Team from 2009-2012. Under his leadership and with the hard work of MD 13, Ohio chartered 18 new Lions Clubs and showed a plus in membership in 2009 (first plus in membership for MD 13 in 20+ years).
In 2008, he was also appointed to the USA/Canada Forum Committee for Memphis and served as treasurer of 2010 USA/Canada Forum in Milwaukee.
In recognition of his service to the association, PID Sherer has received numerous awards, including the 100% Club President Award, 100% District Governor Award, the Council Chairperson's Award of Excellence, five International President's Certificates, two International Leadership Medals, seven International President's Medals and the Ambassador of Good Will Award, the highest honor bestowed upon a member by the association. He also has 31 years perfect attendance and is a James
T. Coffey Fellow, W. R. "Dick" Bryan Fellow and a Progressive Melvin Jones Fellow.
In addition to his Lions activities, PID Sherer is active in numerous professional and community organizations. He is a member of the Buckeye Council BSA and serves on the Eagle Board of Review and Property Committee.
PID Sherer and his wife, Mary Ellen, also a Lion and a Progressive Melvin Jones Fellow, have two children Steven II and Alison, both of whom are Lions.
Granddaughters Nora and Lucy complete the Sherer family.