PID Merle W. Hartle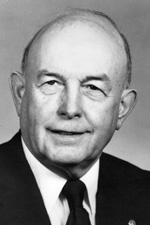 Ohio's Past International Director
Merle W. Hartle (Sally)
International Director: 1972-1974
Merle W. Hartle, of Piketon, Ohio, was elected to serve a two-year term as a director of The International Association of Lions Clubs at the association's 55th convention held in Mexico City, Mexico, June 1972.
Past Director Hartle was a retired electrical engineer. A veteran of World War II, he served as a Lieutenant USNR in the Submarine Force.
A life member of the Piketon Lions Club and a member of the Versailles Lions Club, he has held all major offices of his club and served as district governor and zone chairman.
For his efforts on behalf of the association, Past Director Hartle had received numerous awards including the Master Key Award, six International President's Awards, and three Extension Awards.
In addition to his Lions activities, Past Director Hartle served as a trustee of the Mid-Ohio Health Planning Federation, director of Pilot Dogs, Inc., voting member of the Ohio Society to Prevent Blindness, past director of the Pike County Chamber of Commerce, member of the Shawnee Community College Engineering Advisory Committee and was involved in his church.

Past International Director Merle Hartle passed away on February 18, 2006. You can read his In Memoriam printed in the May 2006 Lion Magazine.