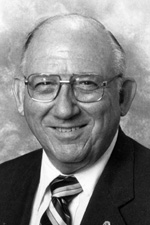 Ohio's Past International Director
Daniel W. "Dan" Cole (Mary Alice)
International Director: 1986-1988
Daniel W. "Dan" Cole, of Marietta, Ohio, USA, was elected to serve a two-year term as a director of The International Association of Lions Clubs at the association's 69th annual convention, held in New Orleans, Louisiana, USA, July 9-12, 1986.
A Lion since 1947 and a life member of the Marietta Noon Lions Club, Past Director Cole served as a club president, zone chairman, district governor and president of the Ohio Past District Governor's Association. He was chairman of the 1992 USA/Canada Lions Leadership Forum.
In recognition of his service to the association, he received the 100% District Governor Award, a Master Key Award, two Extension Awards, six International President's Certificates of Appreciation, 12 International President's Awards and the Ambassador of Good Will Award, the highest honor granted to a member by the association. He was a Progressive Melvin Jones Fellow.
Active in a number of community organizations, Past Director Cole had served on the board of trustees of Lions Pilot Dogs and the Ohio Society for the Prevention of Blindness. He was also active in the Boy Scout programs, as well as the Marietta Area Chamber of Commerce. In 1974, Past Director Cole was named Marietta Citizen of the Year in recognition of his community service.

Past International Director Dan Cole passed away on October 27, 2007. You can read his In Memoriam printed in the January 2009 Lion Magazine.